Hobbomock's Eternal Sleep in Hamden Protects the River
Thursday turned out to be the day to be safety officer for 6 teens climbing in Sleeping Giant State Park in Hamden, CT.
Two miles of mountaintop resembling a sleeping giant give this park its name, and make it a distinguishing feature on Connecticut's skyline.

The Sleeping Giant Park Association describes the geologic formation and the native legend connecting it to the geology of the Connecticut River:
"The trap rock ridges in Connecticut began life about 170 million years ago when volcanic eruptions formed the columnar patterns of basaltic rock. This hard rock which fractures at near 90 degree angles gives the rock the name trap meaning step or stair in Swedish. In Connecticut most of these ridges run north-south, but one unique ridge six miles north of New Haven runs east-west and has the distinctive profile of a recumbent human, especially when viewed from the south. This Sleeping Giant has held a mythical quality for all who see it.
The Native Americans in the area called the Giant Hobbomock, an evil spirit who became angry at the neglect of his people and stamped his foot near the current location of Middletown causing the Connecticut River to change course. Keitan, a good spirit cast a spell on Hobomock causing him to sleep forever so that he would do no further damage."
Along the climb, one finds panoramic views of Quinnipiac University.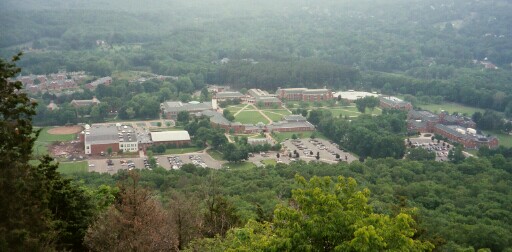 And at the top (accessable via an easy graded fire road built by the WPA) is the 1930's era stone tower built on the high point of the Giant's "left hip" from which one can see Long Island sound and the Giant stretched out all around you.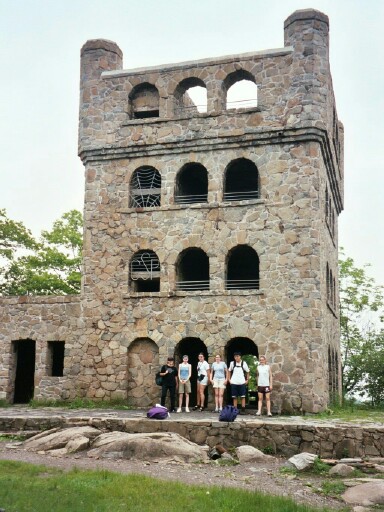 DougSimpson.com/river

Posted by dougsimpson at June 15, 2003 05:05 PM | TrackBack